Get ready to sell more of your teaching resources and grow your business...
without running yourself ragged on the social media hamster wheel.
Sounds like a dream, when right now...
Don't worry, friend. I've got you...
It's not your fault that you haven't hit that major sales milestone you're aiming for.
You just don't have the right tools in your toolbox... yet.
SEO for Teacher Authors is designed for TPT Sellers just like you who want to grow their business without relying on social media posts and email marketing to get sales.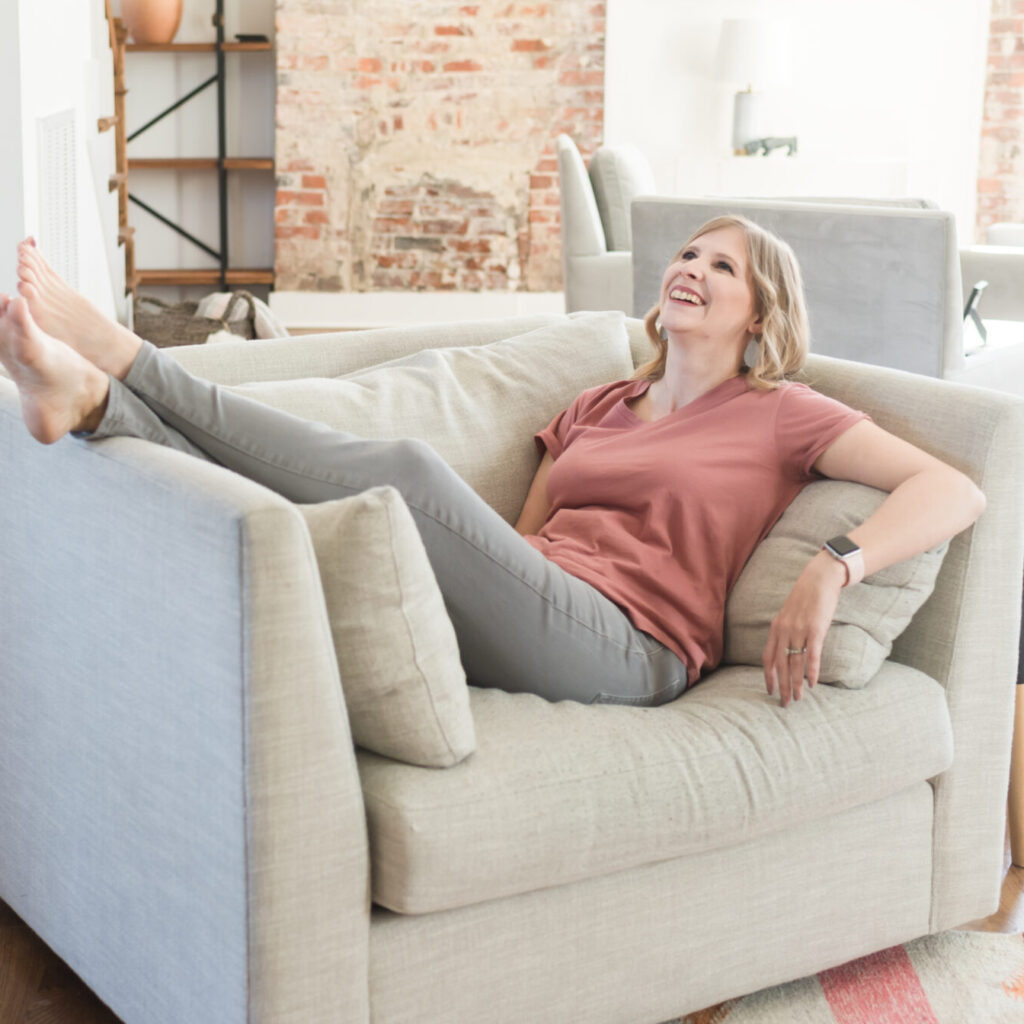 A glimpse into your TPT Seller life after SEO for Teacher Authors:
BUT DON'T TAKE IT FROM ME...
Real People + Real Results
Melody worked on SEO for her own website & shop, and has increased traffic by 45%, users by 50%, and sales by 64%! She even sold more on her own website than on TPT during a sitewide sale!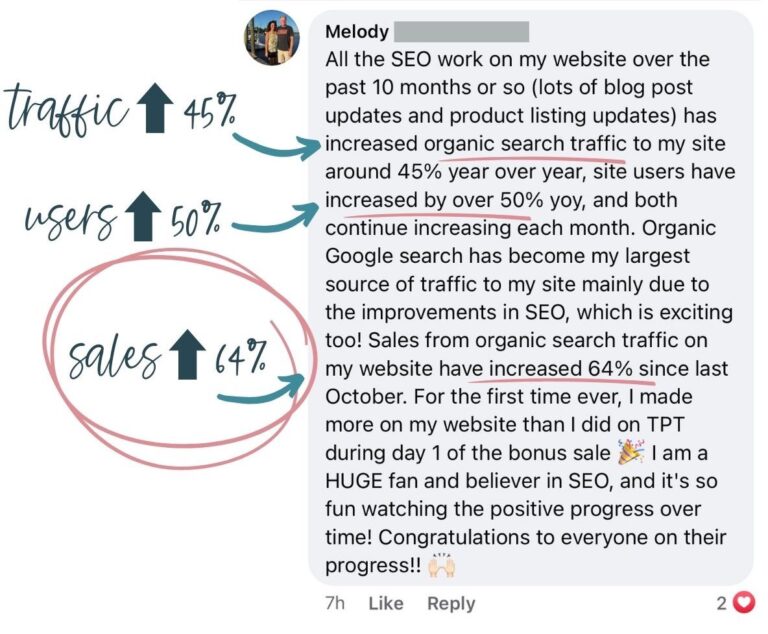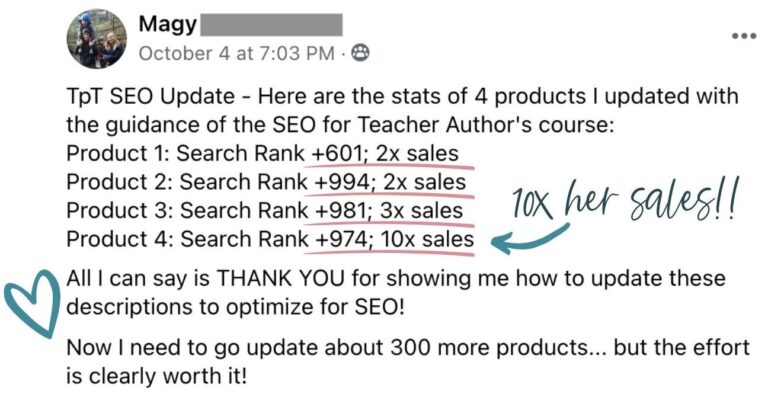 2x, 3x, even 10x sales within 3 months!
With just some simple tweaks she made as a result of what she learned in SEO for Teacher Authors, Magy saw up to 10x increase in sales for these products and moved from almost nonexistent in search to the top of the search results!
And they're not the only ones...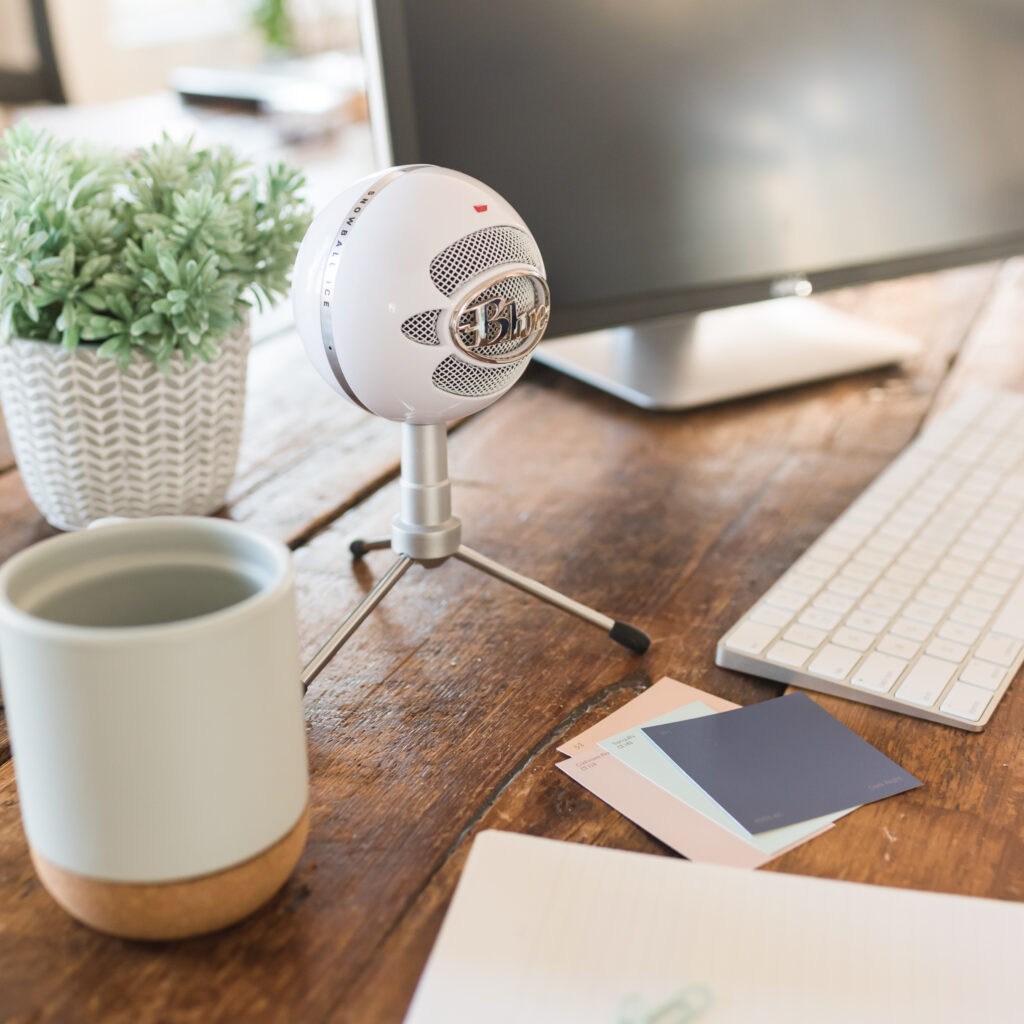 Ready for all the details?
Here's what's in the self-paced course...
"No Fluff" trainings to take you from Level Zero to SEO Hero
Learn fundamentals of SEO including terminology, web tools you can use, and what Google does and doesn't use to rank your pages. Then we'll dig into keyword research and how to choose the best focus keyword for your products & posts.
Learn how to optimize your TPT product listings for the right keywords, plus watch over my shoulder as I update product listings (past students have said this was their favorite part!).
In this module, you'll find out exactly how to optimize Google's SEO ranking factors for each of your TPT products, so they show up in Google searches too! We'll cover titles, headings, images, and more.
Website SEO for your Posts & Products
Learn how to apply everything you've learned about SEO for your TPT products to your website, what's different on your website, and how to optimize your blog posts & website store products for Google search.
Learn how to strategically plan your content for maximum SEO impact so that every single blog post, podcast episode, or YouTube video is building SEO for your brand as a whole and is driving more traffic to your products.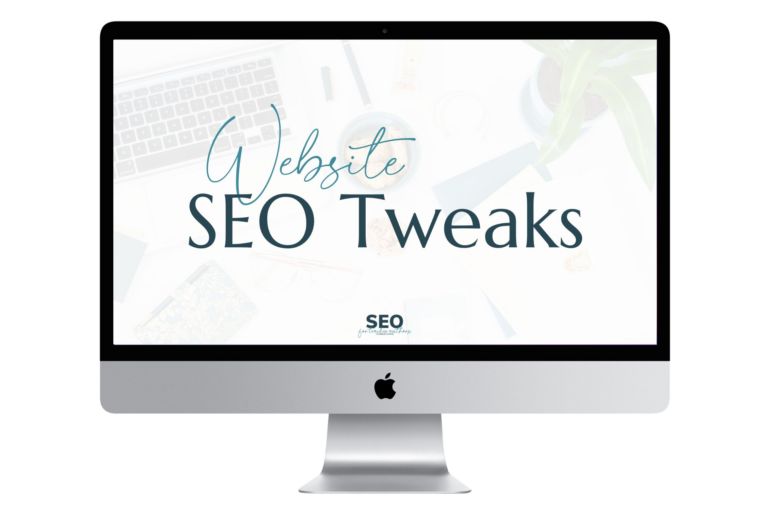 Website SEO Tweaks
($400 value)​
Behind the scenes changes you can make to improve your website's speed, security, and more so that Google loves you.​
Video Tutorial Vault
($350 value)​
Applying what you learn looks different on every platform. Inside the vault, you'll find tutorial videos specifically for WordPress & Blogger, with other platforms available by request.​
Alumni Facebook Group
($300 value)​
The Alumni group is where you'll connect with other teacher authors and get feedback from me as you work to improve your SEO.​
SOP & Checklist Library
($200 value)​
This is your one-stop quick reference list for all things SEO. You'll find step-by-step instructions for the SEO processes I teach, ready to do yourself or hand off to your VA.​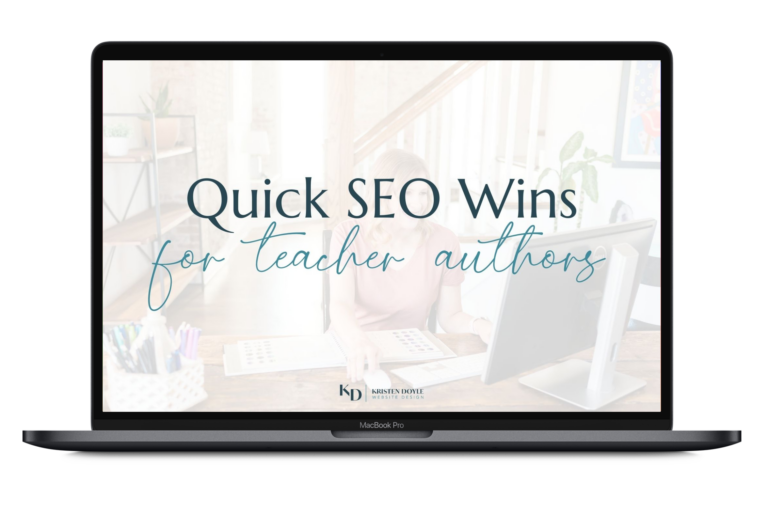 SEO Quick Wins Strategy
($200 value)​
Make the most of the time you spend on SEO with this workshop & tool to help you identify your BEST opportunities for quick SEO improvement!​
The SEO Hub
($100 value)​
Track your updates and their impact on your search rank with this all-in-one SEO tracking Airtable template.​
Here's what other happy TPT Sellers had to say...
Finally, I got answers to all my questions and solutions to problems that I couldn't find anywhere else.

I did the Group Coaching version of the course and being able to ask questions and get immediate answers was golden; in fact, that was the best part of the course for me.

The course also addresses selling TPT resources and by applying that info, my sales have consistently increased month over month since I took the course. Every time I write a blog post or update my TPT product listings, I use the info I learned in the course. If you want to improve your blog and your TPT store, Kristen's SEO course is indispensable!
SEO Group Coaching Student
Check out securely with...

SEO for Teacher Authors
Self-Paced Course
$997

$497
Pay in full & Get an extra bonus!
Modules 1-5 ($2600 value)

Website SEO Tweaks ($400 value)

Video Tutorial Vault ($350 value)

Alumni Facebook Group ($300 Value)

SOP & Checklist Library ($200 Value)

SEO Quick Wins Strategy ($200 Value)

The SEO Hub ($100 Value)
When I first started my TPT business, I didn't pay much attention to SEO… In fact, I didn't even know what it was for the first few years!
But I soon realized that the key to my success was getting more eyes on my products and my posts.
But I'm all about working smarter, not harder. And constantly sending social media and email traffic to my pages was exhausting!
So I started learning how to optimize my pages for search. It all sounded super technical and complex, but I'm going to let you in on a little secret…
SEO doesn't have to be hard or confusing.
Sure, it's a little technical. But all you need is a simple system and the right person to teach you the ins and outs of SEO best practices.
And that's what I'm sharing with you inside SEO for Teacher Authors!
Still wondering if SEO for Teacher Authors is right for YOU?
The bottom of the page means only one thing...
It's time to make a decision, my friend!
The truth is, every TPT seller needs to know search engine optimization.
It's hands down the "most return for the least amount of work" way to grow your business.  Because if your products aren't at the top of search, someone else's will be.
If you're tired of constantly marketing with minimal results…
If you hate feeling salesy and just wish your resources would sell themselves…
If you can't figure out how to break into page 1 of the search results on TPT…
Then my friend, you need SEO for Teacher Authors.
I know it will work for you because I've seen it time and time again in my own business, with my students, and for my clients. 
Are you in?